June 28th, 2013
The waters in Calgary are subsiding, but the work is just beginning. I know numerous people who have lost all their possessions in the devastating southern Alberta flood. As the rebuilding begins I would like to help. For the month of July I will donate 30% of the profits from all sales to the REDCROSS.

I also will create a special gallery of arial images and Calgary landmarks to remind Calgarians and the rest of the world how beautiful she once was and will be again.

Thank you for helping me make a difference.

Lisa
April 8th, 2013
Every year I raise money for the JDRF through card sales. This weekend I spent 14 hours designing some new cards (including Mother's Day ones) for sale. They can be found in my store front under cards. All proceeds from cards purchased between now and June 1 will go directly to the JDRF.

I support this charity because I have seen how hard it is for children with diabetes first hand and have experienced the significant pressure it puts on the family unit. There is nothing more heart breaking than having a mom have to tag along at a sleep over so she can wake her child throughout the night to administer insulin and make sure she hasn't fallen into a coma - except the knowledge that her chid will have a shortened life. There is nothing sadder than seeing a child prick their finger and administer a shot to themselves - except the knowledge that later in life they will face the many long term complications including nerve damage, heart disease and blindness.

More about the JDRF
For over 40 years, JDRF has been a global leader in the search for an end to type 1 diabetes (T1D), through both research funding and advocacy. During that time, we have always talked about a cure as a singular destination: a return to normal physiology.

But today, we realize that we are engaged in a process of curing T1D – that a cure is not just a destination but also a journey along a path. And we recognize that a part of our mission must be to help those living with T1D today to live healthier, easier, and safer lives until we arrive at the end of that path.

JDRF's Research Goals

JDRF's research is committed to improving the lives of every person with T1D and to curing this disease. JDRF's research goals are realized by the projects being supported in three basic areas: Cure, Treat, Prevent

- Cure therapies (Restoring a person's insulin-producing capability and halting or reversing the body's misguided immune attack on the pancreas);
- Treatment therapies (Developing new devices and therapies that transform the way people with T1D treat the disease today in order to help them live healthier lives now and in the future); and,
- Preventive therapy research (Keeping future generations from getting T1D or stopping the disease process before it damages the pancreas).

These therapeutic areas are a bold step in our promise to move the diabetes research landscape towards a cure as soon as possible. It is based on the progress and success of research over the past four decades in uncovering the most promising pathways to a cure.
March 27th, 2013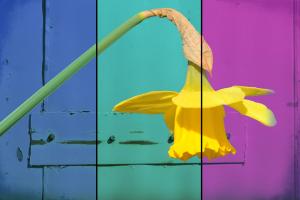 I read this marvellous book called "NOW, Discover Your Strengths" by Marcus Buckingham and Donald O. Clifton. You take a test in the book to discover what your strengths are. It was very interesting and telling. Three of my top five strengths came into play every morning: input (the desire to collect information), learner (the need to learn something new), and ideation (the generation of ideas). You see, every morning I devote at least 20 min to reviewing other artists work. I contemplate them to see what I can learn about light or composition or compilation and then I set to work to see if I can apply what I have learned.

Ana Maria Edulescu has the most magnificent paintings. They are ripe with colour and rich with thick impasto. I have spent many a morning contemplating her work. The link included in this post is a link to the work which inspired this piece. I tried to emulate the colour blocking, vivid tones and geometric feel of this in my own work.

I am so grateful for the calibre of artists I have been able to observe and get to know through this FAA community and I look forward to growing as an artist with them.

Enjoy your day and make time to exploit your strengths!

February 14th, 2013
This morning, over my coffee, I had the privilege to watch a video on the Photoshelter blog about what is in the bag of legend Photographer David Burnett. For anyone curious about photo journalism and an artist who seems to always capture something unique, this is worth watching. David uses a multitude of cameras, some film, some digital and all quirky. Now that I have seen his gear, I have a greater appreciation and understanding of his work.

I have always been committed to learning, experimenting and trying to never replicate my work or the work of other artists. Having seen this video my commitment here is stronger than ever. His portrait work inspires me and I can't wait to start approaching portraiture with fresh perspective.

I hope this video moves you as much as it moved me. Click the button below to watch the video.

Lisa
January 8th, 2011
I have just had the most magnificent experience. Someone outside of my personal network purchased one of my works - Tiffany Blue Umbrella. There is something so... so... legitimizing... yes, that is the feeling - legitimizing about having someone who opinion isn't clouded by relationship valuing my work.

Please do not misunderstand! I deeply value my personal network. They (YOU) have purchased my works, commissioned me to create art for them (you), allowed me the privilege of capturing their (your) important life moments and emotions, and provided valuable feedback and encouragement to me. Heck, It was only a year or so ago that my friend, Jeremy Martel, told me my passion for capturing small things through my camera lens was marketable - that people would value the work I did and PAY me for it. If it wasn't for all of you, I wouldn't have thrown so much of myself into this and grown so much as an artist.

I am probably getting too much into my head here (I tend to over think things). I find myself pondering - is it human nature or just my nature that yearns for credibility? What an interesting question. I didn't consciously consider my desire for credibility or think about what it would take in my mind to legitimize the hours I spend behind the lens and sitting in front of my computer processing. And yet, there it was. Somehow I had this hidden yearning to be perceived by the outside world as I perceive myself. And here it is. My client from Spring Branch, TX has given me the gift of credibility... at least in my own eyes. Thank you. I hope your purchase gives you as much enjoyment and contentment as it has given me.

November 25th, 2010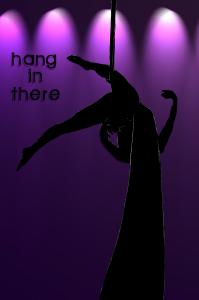 As a photographer, I feel confident in my ability to capture what I see in a way that is artistic. Lately I have been working on using a photograph as a starting point to create something new. T-shirts and calendars I sell here http://www.redbubble.com/people/lisaknechtel. It is harder than you might think! Seeing what could be there instead of what is there is a whole new discipline - and it is taking so much TIME. Why, oh why is time finite?

Speaking of time, a colleague of mine asked me how I do it? - How am I able to devote so much time to my contributions to TELUS, my family, my volunteerism, and my art? I am willing to share my secrets with all of you!

1. Have a spouse who supports you. Now I don't mean financially, though that would certainly free up some time! My sweet husband, Paul, works really hard to provide a clean house for our family, cooking the meals, driving us everywhere, making sure our sweet girl stays on top of her school work. His contributions allow me to spend those 200+ hours I have volunteered this year, pursue my photography passion and put the effort into being successful at work. The olden days with one working parent were idyllic. Paul and I have always managed things with one salary. We aren't wealthy by any means, but we are happy.

2. Be organized. Yes, Mother, I realize that those words coming from my lips are steeped in IRONY. I also remember telling you I was not a "list" person. Ok, so my natural state is one of spontaneous chaos rather than disciplined organization. That makes what I am sharing even more profound! If I can learn to organize my life and time anyone can. Again, kudos to Paul for teaching me this skill. I see him teaching our daughter how to be organized too and know she will get more accomplished as a result. I get organized by using a family calendar and marking all my commitments. Then I can see if I am prioritizing the right things and balancing all the important parts of my life.

3. Carve out time. As I mentioned earlier, time is finite. I am keenly aware that this is all I have to work with so I better make the most of it. I get up every morning between 5:30 and 6:00am and rush to the computer where I start messing around with my art. This hour before I get ready for work allows me to make sure that I have time for my passion. I fit it in at the end of the day too which means I don't spend a lot of time watching TV. Really, at the end of the day I am going to be so much happier improving my skills than knowing what happened to someone on Survivor.

There! Easy peasy. Three tips for you on how you can SQUEEEEEEEZE the most out of every moment. Have a great day and go do something you love!



November 7th, 2010
One of the things I am enjoying the most about being a member or an art community is becoming inspired from other artists. I saw a photo of a water drop suspended on a feather and was hooked! I decided to try it out with a peacock feather as there are so many colours present in the feathers which would create just the macro playground I could sink my teeth into. SO interesting. I welcome your feedback on these new pieces. All can be found in my Peacock feather gallery.
October 5th, 2010
About 3 weeks ago a cold came a knocking. How rude, I thought, this is the worst time to be sick. I have far too much going on. I am chaperoning a choir camp, flying to Montreal for business, leading my team through a big change, having a photo shoot for a fabulous woman and her girls, attending meet the teacher night and on and on and on... To be fair, every week looks something along these lines so there is never a good time to fall ill.

In any case, I railed against this invading bug. Echinacea, Vitamin C, rest, water, immune boosters, peroxide in the ears (I read it can kill colds)... For 3 weeks the bug and I kept our skirmish up. It was stalemate. I began to falter - what am I doing fighting so hard? Am I merely prolonging this thing? The cold felt my weakness and pushed the advantage. It is tipping the scales. This weekend I stayed in, didn't participate in the CIBC run for the cure, and nursed my cold. I hate having to slow down. This week is a big one. The only night I don't have plans is Thursday. I have got to get my body back!
September 9th, 2010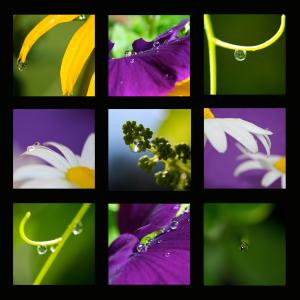 When I get something in my head, the only way to exorcize it is to do it! My latest obsession is building mosaics or triptychs with similar images. I like to hang similar art together and started thinking that it would be cool to have that work already done and hang one big piece with complimentary elements.

I am really taken with the large square containing 9 images because I love a challenge and there is a lot to consider.

Challenge #1 - 9 images is a lot to balance feel and colour scheme. Each image should tie into the whole. The grouping should be stronger for the addition and make thematic sense.

Challenge #2 - Patterns. I try to colour block or theme block within the groupings to create harmony and visual interest. For example, in my piece "What is Black and White and Red All Over?" I created a black cross with a white centre and the corner pieces are grey. That might sound easy, but I assure you there are nuances in black and white.

Challenge #3 - Size. These composites can be quite large. It is a big learning curve to figure out how to keep them big enough to maintain all the detail and be printed in the large sizes I imagined and small enough that I can load them into the gallery!

I am enjoying this new challenge immensely! I would love to hear any feedback on what is working and what isn't and any ideas you have on groupings you would like to see. The gallery is called Mosaic and Triptych Compilations. Please have a look and provide your insights.